Top 10 Books for Beginning Readers
This #MyLiteracyStory #DGMyStoryEntry shop has been compensated by #CollectiveBias Inc. and its advertiser. All opinions are mine alone. Do you have an emerging reader? Are you looking for books for beginning readers? You'll want to check out our top 10 list. It includes picture books and chapter books that kids and parents will both enjoy. I get commissions for purchases made through the affiliate links in this post.
I'm excited to partner with Kellogg's® and Dollar General for this post. Kellogg's is a proud sponsor of the Dollar General Literacy Foundation which is celebrating over 20 years of helping individuals learn to read, prepare for their high school equivalency, or learn English. Over the years, the Foundation has awarded more than $140 million to nonprofit organizations and schools that have helped more than 9 million individuals advance their literacy and basic education skills.
Learn more about the literacy initiative from Kellogg's and Dollar General. Enter the #DGMyStory Sweepstakes using the #DGMyStoryEntry hashtag and share your own personal literacy story for a chance to win a $50 Dollar General gift card.
Certain Kellogg's cereals at Dollar General are featuring example stories. Hover over the image below to check out the featured products.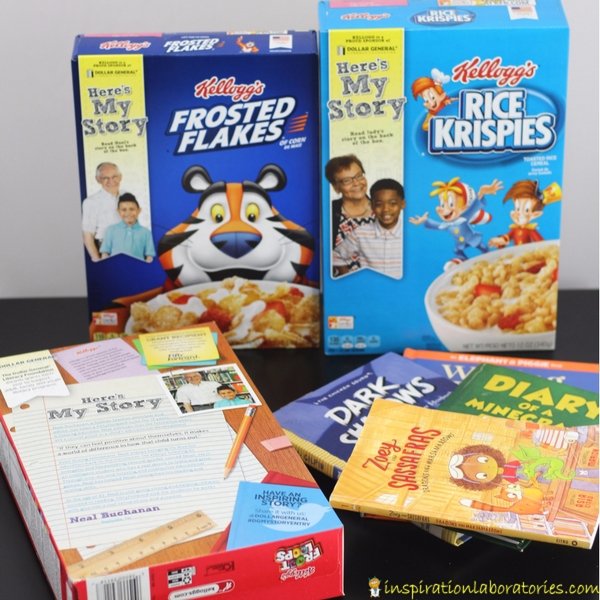 You can find the Kellogg's cereals at your local Dollar General. Look for the special packaging on Kellogg's Frosted Flakes®, Kellogg's® Froot Loops®, Kellogg's Frosted Bite-Size Mini-Wheats®, and Kellogg's® Rice Krispies®.
Be inspired by the stories on the back of the boxes.
Top 10 Books for Beginning Readers
My son is currently in second grade. In the last year, his reading ability has grown tremendously. He has gone from simple beginning readers to more advanced chapter books. Over the summer, reading independently was something he chose to do on a regular basis. As an avid reader, this makes me very happy.
This book list includes books that emerging readers can read independently. They are my son's favorite books to read as well as ones that I enjoy reading to my kids. If your child isn't quite ready to ready on his own, these books make great read alouds.
Picture Book Recommendations

Elephant and Piggie books by Mo Willems – I'm starting off our list of favorite picture books with Elephant and Piggie. All of the books in this series are fantastic, funny, and easy to read. My favorites are Waiting is Not Easy! and Let's Go For a Drive. My son's favorite is The Thank You Book – it has every character that Gerald and Piggie ever met. They thank everyone for being a part of such a wonderful journey. I find these books just as funny as my kids do and I don't tire of reading them. Which one is your favorite?
Click, Clack, Peep! by Doreen Cronin – This is one of the later books in the Click Clack series. It is my family's favorite. The animals are all waiting for an egg to hatch. When it finally does, all the baby duck does is peep. Even when it's bedtime, the baby duck won't sleep. The animals try everything, but nothing works. Then, Duck (the star of the series) steps in and takes the baby duck for a drive (in Farmer Brown's tractor). He's finally successful at getting the little duck to sleep, but in typical Duck fashion, he's made a mess of the farm! I think all parents can relate to this story, and kids find baby duck's peeping hilarious. I added this book along with a baby duck plush that really peeps to Lily's Easter basket one year. Such a fun gift idea. You can also download a Click, Clack, Peep activity book to go along with the book on Doreen Cronin's website.
A Splendid Friend, Indeed by Suzanne Bloom – This is the first book in Bloom's Splendid Friends series. An adorable story of a goose who appears to be bothering a polar bear that is busy reading, writing, and thinking. In the end, the goose wins over the polar bear by writing him a kind note. The text is simple and yet the story about friendship is captivating. The book has won many awards including the Theodor Seuss Geisel Beginning Reader Award – Honor Book in 2006. Read more about Goose and Bear's friendship in the other books in the series.
Rhyming Dust Bunnies by Jan Thomas – Here's another author that we find funny. Jan Thomas has vivid illustrations and adorable characters. Her book's are always simple to read with engaging text. Have fun rhyming with the dust bunnies. Well, most of them anyway. Bob seems to have trouble rhyming. Then, you realize he's trying to tell everyone about the broom headed their way! Bob saves them from the broom but can he save them from the vacuum, too?
Are You My Mother? by P.D. Eastman – I have to add this classic to our list. This book was my son's favorite when he was 2. We read it every day. We even acted it out. It was a great springboard for storytelling using props. As a beginning reader, my son still enjoys this book. The story is relatively simplistic and a bit repetitive, but that can be good for emerging readers. Reading the same words (in a well written, interesting story) can give a reader confidence and success.
Chapter Book Recommendations
The Chicken Squad: The First Misadventure by Doreen Cronin – I've already mentioned how much we like Cronin's Click Clack series. When we found out she wrote chapter books, we had to check them out. The first we read was The Trouble with Chickens: A J. J. Tully Mystery. J. J. is a former search and rescue dog who helps some chickens find their missing family members. Cronin takes the chickens from the book and gives them their own series narrated by J. J. Tully. In each Chicken Squad book, the chicks attempt to solve a case. Their personalities are quite amusing and they get into a lot of trouble. You and your kids will love this series. We started it as a read aloud. Now Aiden and I read the books together. He reads a page and then I read a page. It's a fun way to spend time together. We giggle through the whole book.
Magic Tree House series by Mary Pope Osborne – Dinosaurs Before Dark is the first book in this popular series. We started this series as a read aloud as well. My husband read the books to Aiden each night before bed. They worked their way through the entire series and then we had to patiently wait for new books to be released. Now Aiden is going back and rereading the series. He just picks and chooses whichever story he wants. I think he prefers the Merlin missions. The reading level varies a bit for these books – the earlier ones are shorter and easier to read. The series grows with your child. I would suggest this series for independent readers.
Zoey and Sassafras series by Asia Citro – I've talked a bit about Zoey and Sassafras in the past. (We were sent the books for review.) My kids love these books. Magical creatures come to Zoey's backyard barn for help. Zoey designs experiments to solve their problems. In the first book, a sick baby dragon is left at the barn door. Zoey thinks the baby dragon may be hungry. The only problem is figuring out what baby dragons eat. Zoey designs a food experiment to find out. She chooses a few types of food and then let's the dragon try them. She discovers that the dragon likes marshmallows. Zoey names the baby dragon Marshmallow because of this. Unfortunately, feeding Marshmallow the marshmallows does not solve the problem. The baby dragon is still sick. I'll let you read the book to find out what happens. Zoey and Sassafras is written for a 2nd grade reading level and is perfect for your independent reader. My 3 year old loved it as a read aloud. Check out our food science experiment inspired by the book.
Diary of a Minecraft Zombie by Zack Zombie – If your child loves Minecraft, he or she will love this book series. This is the diary of a 12 year old zombie. Read through what happens each day in the zombie's life. My son read through this first book in one sitting. He couldn't put it down. It's a pretty short read so be sure to get more than one at a time. The point of my adding this book to the list (besides the fact that my son loves it so much) is to say follow your child's interests. Get books that your child will read. The important thing is that they do read.
Minecraft Graphic Novels – My son's current favorite is Revenge of the Zombie Monks. He has read it at least 3 times. He also has Chasing Herobrine which he has read multiple times. Graphic novels are a good choice for beginning readers because they are full of pictures (just like a comic book). This makes it less intimidating for readers. I recommend finding graphic novels that will interest your child.
What books for beginning readers do you recommend? We're always looking for new ones to read.
Don't forget to share literacy story for a chance to win a $50 Dollar General gift card. Learn more about the #DGMyStory Sweepstakes here.